Piers Carpenter Road Tests Maun's Snipe Nose Plier
Published by Maun Industries on 6th Sep 2023
Interested in the Maun Snipe Nose Jewellery Pliers?
Don't just take our word for it.
In this post, professional jewellery-maker Pliers Carpenter puts the Maun pliers to the test.

Maun's Snipe Nose Smooth Jaws Parallel Plier
Interested in the Maun Snipe Nose Jewellery Pliers?
Don't just take our word for it.
In this post, professional jewellery-maker Pliers Carpenter puts the Maun pliers to the test.
Introduction To Piers Carpenter's Road Tests
Piers Carpenter is an up-and-coming star of the UK jewellery industry. You may have seen him on All That Glitters, the BBC's jewellery-making talent show. In 2022, he was crowned winner of Series Two.
Find out what happened when we invited Piers to road test some of Maun's most popular jewellery parallel pliers.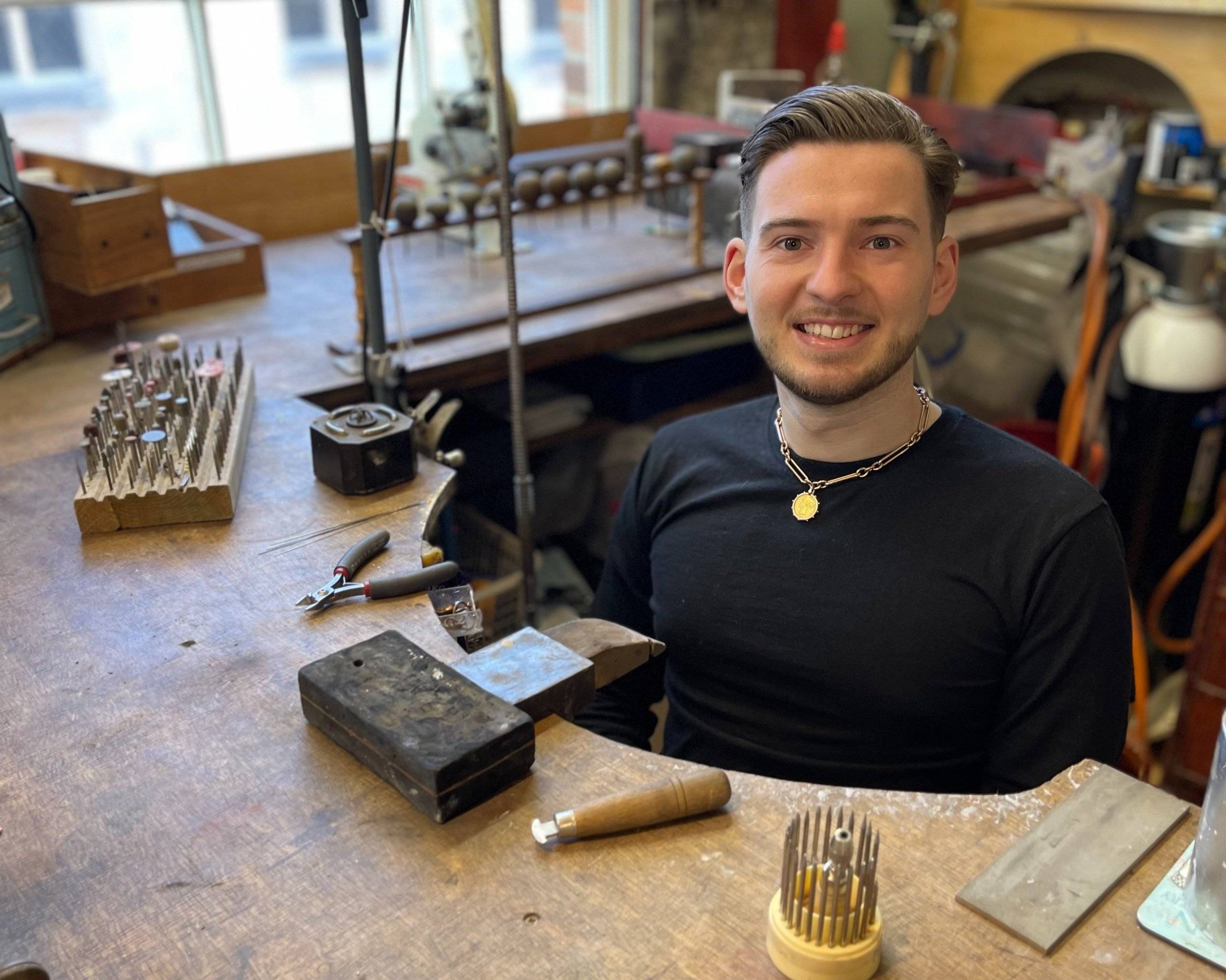 About Maun Jewellery Tools
Maun has long been a respected brand within the jewellery sector and community, so much so that our tools are often referred to simply as Mauns.
We're renowned for our British made, high-quality, durable tools that are suitable for professional use, last through the years and deliver results.
Benefits of Smooth Jaws Pliers for Jewellery Making
Jewellery makers are known for having larger jewellery tool collections for their bench, and there are three core Smooth Jaws staples in the Maun range that tend to be popular for jewellery making and repair:
• Smooth Jaws Flat Nose Parallel Plier 140 mm.
• Snipe Nose Smooth Jaws Parallel Plier 125 mm.
• Thin Jaws Parallel Plier 160 mm.
Each parallel-action tool comes with its own unique benefits and uses.
Piers road-tested them, and here's what he had to say about our Snipe Nose Smooth Jaws Parallel Plier.
"I've road tested this Maun Snipe Nose Parallel Plier (4340-125) for a month, and it's proven to be versatile and great for general use, rather than those bought individually for specific jobs. For me, on my workbench, I'd use it every day for a whole manner of things. Holding pieces of wire, making, and holding flat collets, shaping wire, literally pretty much everything. Anytime you want to hold something fiddly, this pretty much will do it.
"I've literally picked it up multiple times a day. It's really useful when you are filing up a piece of work, a joint or something like that in a ring shank. I hold the side of the ring with these. If you are filing a flat on the end of a wire, I would also hold it with these.
"This plier is snipe nosed, which means they are tapering up with a wider base. And durable where they are thick at the bottom. It's a sturdy pair of pliers, and they are hard to mistreat. I think they are brilliant.
"These are one of the smallest pliers Maun does, which I like. I have average size hands and they are really easy to use.
"I also like the parallel function; I think that's the key thing with all Maun pliers. Unlike many pivoted pliers, Maun's jaws open parallel instead of in a V shape. This means that, if you hold a flat sheet of metal or wire, it's held the full length, and there's no digging into the material because it's held gently along the jaw. When you are holding something that is parallel, such as square wire or a bit of round wire, all different thicknesses, these are really good. They open well. Some other types of pliers I've tried don't open up like these. The gap between the jaw again is perfect, so they don't really mark your work. They've got a 10.5-mil/11-mil gap which gives plenty of space for most sorts of fine jewellery. Obviously, when working on larger-scale artistic pieces, the gap might not be as large as you'd want it, but I find they open the right width for rings, earrings, pendants, and general fine jewellery items, and very rarely need something wider.
"They are different to regular snipe nose pliers (finger-jointed pivoting pliers) because they also hold the piece the whole way up. If you use [scissor-action] pliers, you'll be holding your item at the bottom, which means that the piece you work on may be moving around in your pliers while you're trying to work on it, so you'll risk creating marks on the bottom because that's where all the force is going. So, these snipe nose parallel pliers will save you time in cleaning up, and the actual job you're trying to do on the material or item you are holding in them. Making it easier and quicker because the piece won't move around as much. Preventing unnecessary marks or damage.
"They are just brilliant. You just can't beat them, they are all-day, every-day, perfect."
Browse all Maun Jewellery Pliers
Further Reading
We hope you enjoyed this post by Piers Carpenter road testing the Maun Snipe Nose Smooth Jaws Parallel Plier.
Learn more about Maun jewellery pliers:
Recent Posts