Piers Carpenter Road Tests Maun's Nylon Jaws Flat Nose Parallel Plier
Published by Maun Industries on 6th Sep 2023
Interested in the Maun Snipe Nose Jewellery Pliers?
Don't just take our word for it.
In this post, professional jewellery-maker Pliers Carpenter puts the Maun pliers to the test.
Interested in the Maun Nylon Jaws Flat Nose Parallel Plier?
Don't just take our word for it.
In this post, professional jewellery-maker Pliers Carpenter puts the Maun pliers to the test.

Maun's Nylon Jaws Flat Nose Parallel Plier
Interested in the Maun Nylon Jaws Flat Nose Parallel Plier?
Don't just take our word for it.
In this post, professional jewellery-maker Pliers Carpenter puts the Maun pliers to the test.
Introduction To Piers Carpenter's Road Tests
Piers Carpenter is an up-and-coming star of the UK jewellery industry. You may have seen him on All That Glitters, the BBC's jewellery-making talent show. In 2022, he was crowned winner of Series Two.
Find out what happened when we invited Piers to road test some of Maun's most popular jewellery parallel pliers.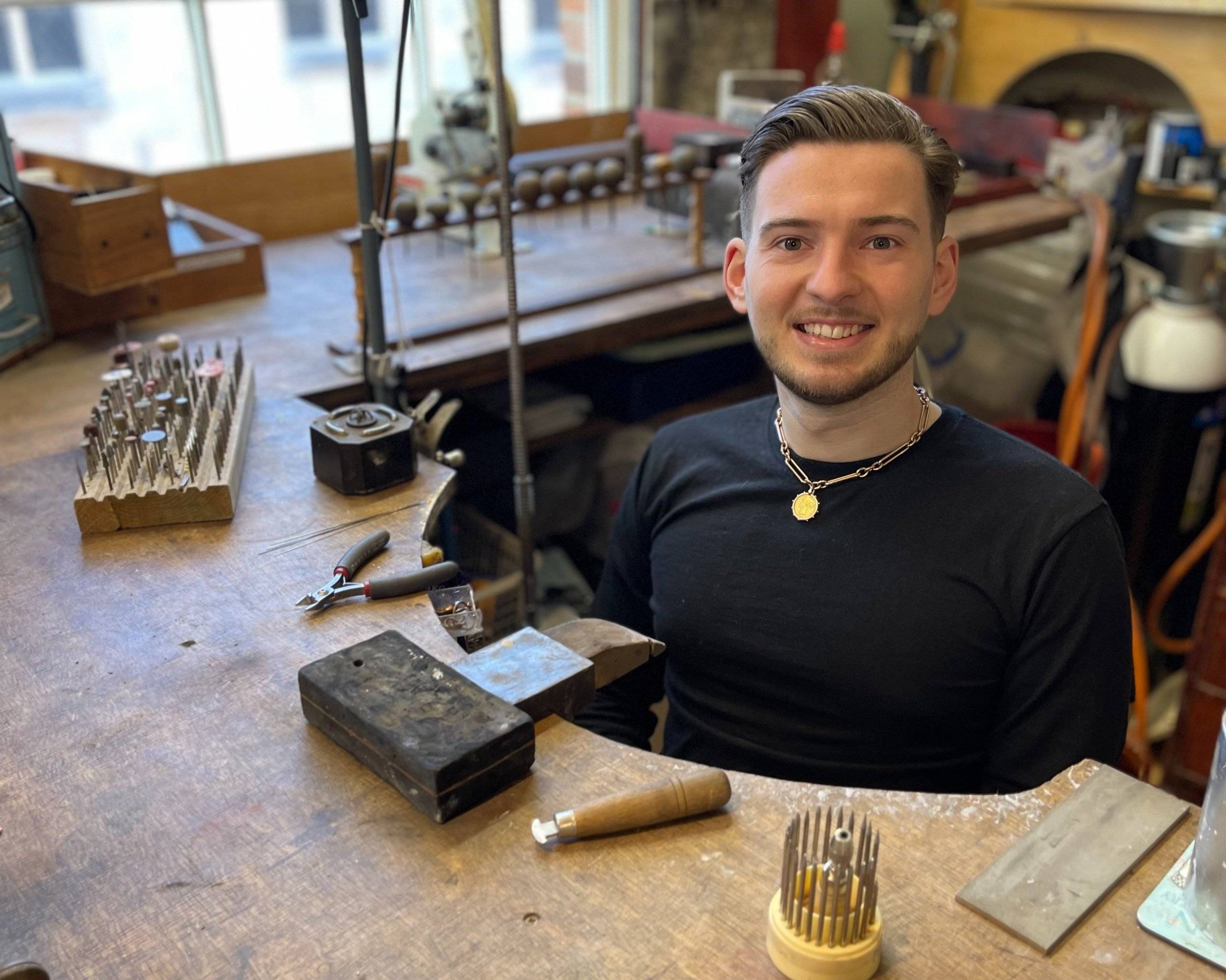 About Maun Jewellery Tools
Maun has long been a respected brand within the jewellery sector and community, so much so that our tools are often referred to simply as Mauns.
We're renowned for our British made, high-quality, durable tools that are suitable for professional use, last through the years and deliver results.
Benefits of Nylon Jaws Parallel Pliers for Jewellery Making
Jewellery makers actively work with precious metals, so having tools that prevent marking is a must. Our Plastic Jaw Parallel Pliers provide jewellers with the power to bend and manipulate soft and fragile materials, with a firm grip for complete accuracy, while leaving no marks.
Maun currently manufactures two types of pliers with nylon jaws:
• Maun 4874-140 Nylon Jaws Flat Nose Parallel Plier 140 mm.
• Maun 4773-140 Round And Flat Nylon Jaws Parallel Plier 140 mm.
Both tools come with their own unique benefits and uses.
Piers road-tested them, and here's what he had to say about our Nylon Jaws Flat Nose Parallel Plier.

If you don't have time to watch the whole video, we have highlighted Piers' key messages as he road-tests the 4874-140, a 140 mm flat nose parallel plier with two flat nylon jaws. He speaks on the benefits of the tool, and how it can best be used.
"Nylon Jaw Pliers, 4874-140. I have been using them for a few little jobs and I have a job that I am about to use them for."

Piers has created a demonstration for this job, and we will be sharing this with you very soon. He explains that due to the nature of the metal, the nylon inserts are likely to scuff up slightly. This does not affect the experience of using the tool in future.

"So, they've got these nylon pads inside the jaws, which are great. They will get a bit scuffed up, but that's part of the nature of them. Your putting metal in that's going to be stronger or more durable than the nylon on the jaws, that's the whole point so that you don't mark the metal."
Incorporating a light duty spring enables the tool to spring back open, without the action being overly powerful.
"These are a little bit different because they are sprung, which I quite like, but they aren't too overly springy, so they can still clamp without you having to really grip down on something. If you still want to put them down with a piece in there, you can pick them back up and it's still in there. But then obviously light enough that you can pop them back open quite easily.
"For what I do, not an everyday bit of kit, but when you want them, they are invaluable. We work with only precious metals, so wastage is a big thing for us. I think these save you the wastage."
Piers expresses the benefits of the nylon inserts in preventing work being repeated, saving both time and expense.
"I have used them on some 18ct white gold, 18ct yellow gold, silver and a couple of 9ct pieces. A couple of times, there's been a slight mark, but when putting some real force against these. As a general rule, there's been no mark on the piece that I'm working on, which I think is just brilliant. Almost revolutionary.
"Before I had a pair, I had to plan for filing things up and shaping them up and everything. Now I sort of don't, especially if it's a piece that's already had a polish. If it's just a little bit of tweaking, you have saved yourself having to file it off, buff then polish it again. It's basically a time saver and a money saver because you're not having the wastage you would have and you're not having to go through all the processes you would usually. Especially doing wire work. I made a couple of prototypes for a chain that I'm making in silver. I used these, and they worked perfectly, absolutely brilliant."
Piers comments that, when necessary, the return spring can be temporarily removed from the plier.
"Although I do really like the spring in the middle, it does prevent you from putting any work all the way through. I can see at some point I may have to pop the spring out if I need something all the way down. Get some tweezers in there and pop that out and back in after you've used them for the thing that you wanted all the way through.
"I really, really like these. The trade is so big, if you are a chain maker, you could use these every single day."
Piers finds it hard to articulate exactly why he likes the nylon jaw pliers. For him, it's more about instinct, and knowing what tool works and feels most comfortable to use in any particular situation.
"With the tools and jewellery, it's all a sense of feel … I can't necessarily explain it. Your head tells you that's what you want because your head knows, but you don't quite know it yourself."
Piers closes the video, summing up crisply, "Get them, use them, you'll love them."
Browse all Maun Jewellery Pliers Maun Jewellery Pliers

Further Reading
We hope you enjoyed this post by Piers Carpenter road testing the Maun Nylon Jaws Flat Nose Parallel Plier.
Learn more about Maun jewellery pliers:
Recent Posts